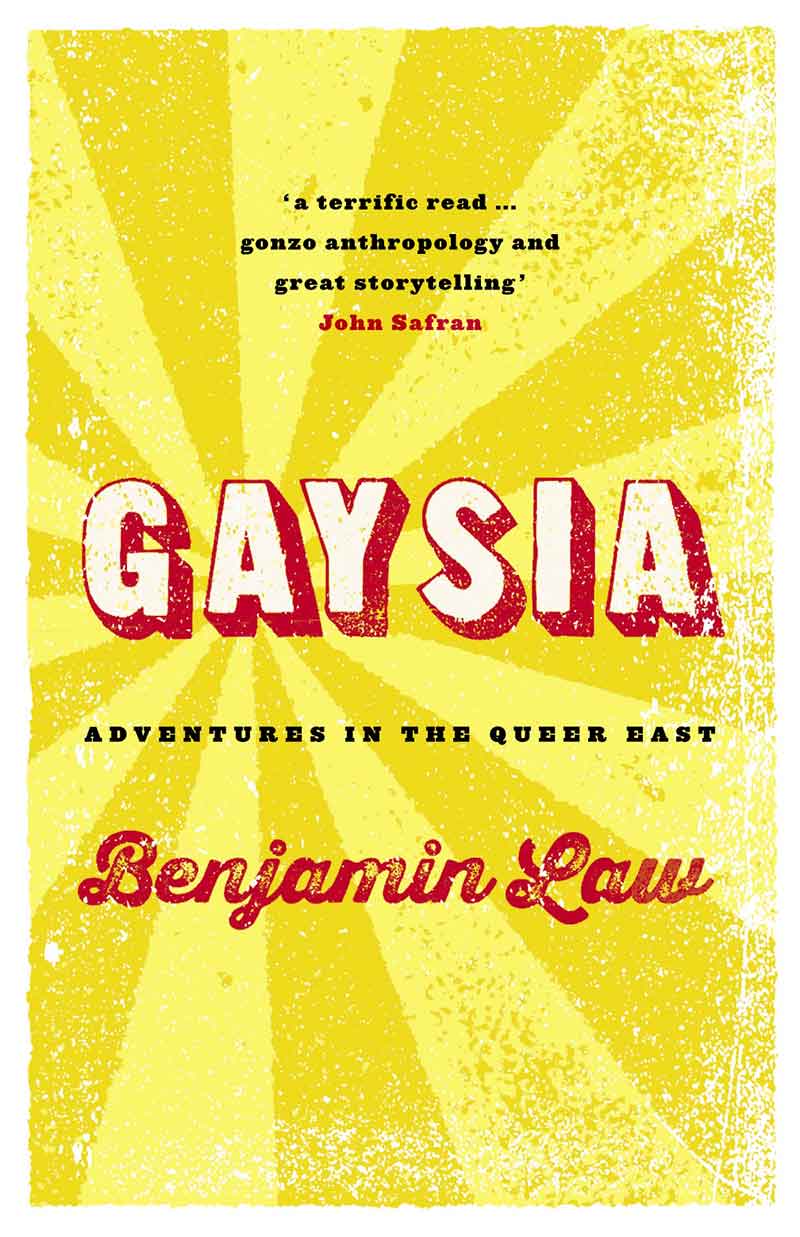 2013 Australian Book Industry Awards
General Nonfiction Book of the Year (Nominated)
"A wild ride … Gaysia is like a Louis Theroux documentary in book form. ★★★★★"
Andrew Wrathall, Bookseller + Publisher
"One of the most surprising and entertaining voices in Australian nonfiction writing. A book of powerful, enlightening stories on a fraught topic, told with care, empathy, grace and good humour."
Andrew McMillen, The Australian

"Benjamin, friend and pervert, said he'd call me a a racist and homophobe if I didn't endorse his book. Fortunately, it's a terrific read even without the threat. Benjamin combines gonzo-anthropology and great storytelling in Gaysia, cementing his place as one of Australia's leading sick puppies."
John Safran
"I hated it. Had to stop reading this book as I didn't like it because I felt the contents should have been reported to the police. ★"
"kaymc", Amazon user review

Benjamin Law considers himself pretty lucky to live in Australia: he can hold his boyfriend's hand in public and lobby his politicians to recognise same-sex marriage. But as the child of migrants, he's also curious about how different life might have been had he grown up in Asia. So he sets off to meet his fellow Gaysians.
Law takes his investigative duties seriously, going nude where required in gay Balinese nudist resorts, sitting backstage for hours with Thai ladyboy beauty contestants and trying Indian yoga classes designed to cure his homosexuality. The characters he meets – from Tokyo's celebrity drag queens to HIV-positive Burmese sex workers, from Malaysian ex-gay Christian fundamentalists to Chinese gays and lesbians who marry each other to please their parents – all teach him something new about being queer in Asia.
At once entertaining and moving, Gaysia is a wild ride – a fascinating quest by a leading Australian writer.
—
B U Y
Buy Gaysia in paperback (RRP $19.99) from most Australian bookshops. Readings offers $3 flat delivery shipping per order within Australia.
You can also purchase it as an eBook from these retailers:
• Apple iTunes (iPad/iPhone)
• Kobo (ePub format: Kobo, Sony, Nook, iRiver)
• Amazon (Kindle)
In North America, Gaysia is published by Cleis Press.
In India, Gaysia is published by Random House India.
—
R E V I E W S
"Benjamin Law is funny and honest and handsome. Gaysia is a delightful, occasionally confronting adventure"
Josh Thomas

"Gaysia is focused, observant […] and often thought-provoking in a refreshingly upbeat way."
Robert Dessaix, The Monthly

"Investigative journalism carried out with style, empathy and unflinching honesty. Law's intelligent and non-sensationalist approach renders such content ever more poignant."
Emma Perry, artsHub
"Benjamin throws himself into every challenge he's given, occasionally to the detriment of his own personal health, and recalls it all with warmth, sympathy and humour. A fantastic book."
Dani Solomon, Readings
"An absolutely fascinating book, and I have gained so much from reading it. Gaysia is a book with human experience at its core."
Catherine Horne, Booktopia